File photo taken on September 1973 shows Cuban First Secretary of the Cuban Communist Party and President of the State Council Fidel Castro holding a flag. (AFP)
Cuban Prime Minister Fidel Castro (L) lighting a cigar while listening to Argentine Ernesto Che Guevara. (AFP)
Fidel Castro had close association with the Nehru-Gandhi family. The former Cuban President had "sisterly" ties with former Indian Prime Minister Indira Gandhi. In the picture, he is seen giving a bear hug to Indira during the Non-Aligned Summit in New Delhi in 1983.
This file photo taken on September 06, 2000 shows Cuban President Fidel Castro addressing the United Nations Millennium Summit. (AFP)
This file photo taken on January 21, 1998 shows Pope John Paul II greeted by Cuban President Fidel Castro at the Palace of the Revolution in Havana just prior to their private talks. (AFP)
This file photo taken on June 9, 2006 shows Cuban president Fidel Castro attending the closing ceremony at the International Seminar on Literacy and Post Literacy Policies, in Havana. (AFP)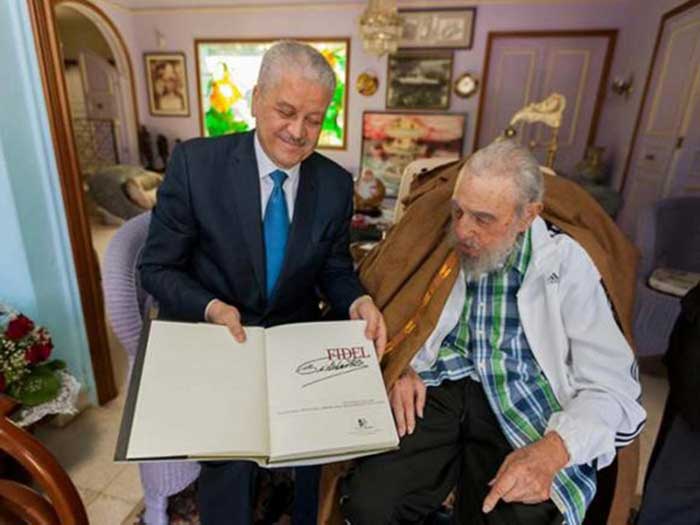 Cuba's former President Fidel Castro (R) and Algeria's Prime Minister Abdelmalek Sellal meet in Havana, Cuba, October 13, 2016, in this handout photo provided by Cubadebate.
Cuban Former President Fidel Castro applauding during the closing ceremony of VII Congress of Cuban Communist Party (PCC) at Convention. Castro had been in poor health since an intestinal ailment nearly killed him in 2006 and he formally ceded power to his younger brother Raul Castro two years later. (AFP)
The bearded Fidel Castro took power in a 1959 revolution and ruled Cuba for 49 years with a mix of charisma and iron will, creating a one-party state and becoming a central figure in the Cold War.
This combination made on August 03, 2006 shows pictures of Cuban President Fidel Castro ranging from his early childhood to the present days in 2006.
Cuban leader Fidel Castro being greeted by South Africa's Nelson Mandela at the 12th Non-Aligned Movement summit in Durban on September 02, 1998.
This photo taken and released by Prensa Latina on January 30, 1979 in Havana, shows Iraq's Saddam Hussein (C) with Cuban President Fidel Castro (L) and his brother Raul Castro.
This Argentine Canal 13 handout shows Cuban President Fidel Castro playing with footballer Diego Maradona in Havana, 26 October 2005.
Libya's Moammar Gaddafi (C) and Cuban president Fidel Castro (R) at the NAM summit in Harare, Zimbabwe on September 4, 1986.
This July 26, 1953 photo shows Fidel Castro (second from left) giving his deposition after he led the attack on the Moncada Garrison in Cuba.
Cuba's Fidel Castro (R) during a meeting with Argentine guerrilla leader Ernesto Che Guevara in the 1960s.
Fidel Castro (L) with Soviet leader Nikita Khrushchev during a four-week official visit to Moscow in May 1963.
Cuban President Fidel Castro (L) being handed his portrait by Venezuelan President Hugo Chavez (C), flanked by Raul Castro on August 13, 2006.